My name is Ben Livingstone, I am a 16 year-old who is aspiring a role in Football Media/Journalism. I am currently about to start a Level 3 Media Course in September.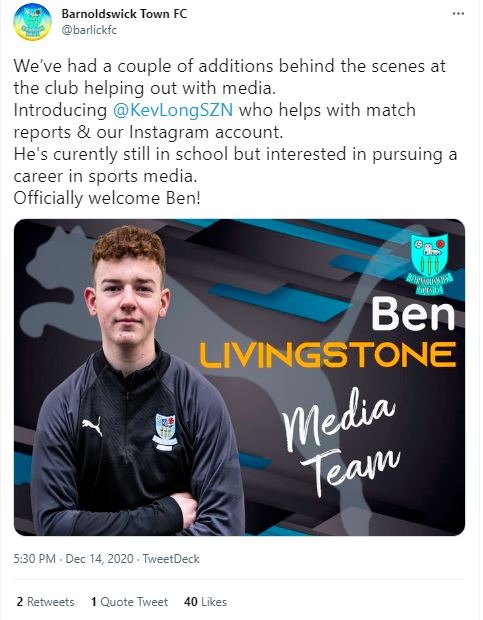 Work Experience
I currently do Media Work for Barnoldswick Town in the North West Counties League. Over the course of the past 8 months of me being on their media team i have learnt how to, develop my writing, write Match Reports - which can be found in local newspapers in and around Barnoldswick - as well as running their Instagram page which has seen a huge growth in followers and interactions. During my time at Barlick, I have interviewed the Manager/Coaching staff on numerous occasions.  Alongside all of this, I have created Match Day vlogs for my Youtube channel, giving non match goers a feel for the match. This includes the journey to the game, pre match footage of warm ups aswell as interviews with coaching staff, Match Highlights with me updating viewers on the proceedings every so often. Many times, I have gathered footage which has been used in; Game Highlights, Game analysis, Footage for club socials and much more. All of this enhancing the fan experience for both match attendees and non match goers, whilst inflating club growth and reputation across all social media platforms, from twitter, Instagram and Facebook.
YouTube

I also run a self owned and ran YouTube channel which has gained much traction, since I started making videos in March 2020. Since my introduction to YouTube, I have racked up over 3,500 subscribers, as well as a healthy following on a variety of social media platforms. Involving taking a Instagram account from 0-55K followers in under 9 months! On my YouTube accounts, on Both Instagram and Twitter I have amassed a following of over 8.5k followers! On my YouTube channel i post a variety of Football based content. This ranges from Live Football Watchalongs - Watching Football matches live giving commentary as well as allowing non match watchers to have a good understanding of the game. Also, Transfer Talk Videos about hot talents across world football! Throughout the past year of YouTube I have accumulated over 438,000 views across all of my videos, which I only plan to continue to build upon.